Dr. Vasilios Nenos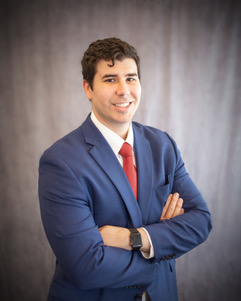 Dr. Vasilios is a native of the Tampa Bay area and is proud to return to his home town to serve this wonderful community. His grandfather, Dr Byron Nenos Sr. was a chiropractor and served the Tampa area for over 40 years. From seeing how his grandfather helped change his patients' lives, he knew that he wanted to follow in his footsteps. Dr. Vasilios attended Jacksonville University where he completed his Bachelors of Science in Biological Studies. While earning his undergrad Dr. Vasilios was a two-sport athlete and competed at a national level.
Dr. Vasilios attended Palmer College of Chiropractic in Port Orange Florida. While in school he completed several post-graduate level courses and certifications including Flexion Distraction, Sacral Occipital Technique (SOT) and served as in on the executive board in many technique classes and clubs. He completed his preceptorship at the Florida Orthopedic Institute where he had over four hundred clinical hours in a neurology-based clinic.
Dr. Vasilios specializes in evidence-based chiropractic care pulling from many different professions with an emphasis on structural and functional rehabilitation. His education, post-graduate work and training, and sports background gives him a well-rounded approach to patient care. A whole-body approach allows him to help his patients get to preinjury status and achieving optimal health as quickly as possible. When not in the office Dr. Vasilios enjoys golf and spending time with his dog Zorba.